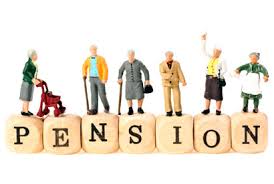 The Seventh Central Pay Commission has recommended a 23.55% increase in pay and pension benefits to 4.7 million government employees and 5.2 million retired employees.That means an additional payment of Rs.1.02 lakh crore of which the railways account for Rs. 28,450= crore.The lowest salary has been hiked from the earlier Rs.7,000=to Rs.18,000= while a cabinet secretary will now get Rs.2.5 lakh a month.
An interesting facet is by the time the next pay commission is constituted 10 years from now, around 29% of today's government employees will retire. The railways and the department of posts would see the largest proportion of employees retiring.
The seventh central Pay Commission has also recommended an equitable pension, akin to One Rank One Pension(OROP) announced for the armed forces, for civil employees including central armed police forces and defence personnel who retired before Jan.1, 2016. This formulation will bring about complete parity of past pensioners with current retirees( for civilians those who joined service prior to Jan 1, 2004).
The impact on the government's pension bill is estimated at Rs.34,000= crore, a 23.6% rise. The pension bill for 2016-17 is expected to rise from Rs.1.42 lakh crore to Rs.1.76 lakh crore.
This is how pensions are likely to be fixed
Past pensioners will first be fixed in the pay matrix recommended by the commission on the basis of pay band and grade pay at which they retired , at the minimum of the corresponding level in the matrix. This notional entry pay will then be raised by 3% for each year of service and 50% of the amount thus obtained would be the new pension. Another calculation would simply multiply the current basic pension by 2.57. The pensioner would then have the option of getting the higher of the two calculations.
SOURCE: THE FINANCIAL EXPRESS,NEW DELHI DATED NOVEMBER 20-2015, PAGE 1, AND DATED NOVEMBER 21,2015, PAGE 7, AND THE TIMES OF INDIA NEW DELHI DATED 20 NOVEMBER 2015 PAGE 19